Crate & Barrel's First-Ever Full-Service Restaurant Features
Everyone's favorite home goods store is back with an exciting new venture. Crate & Barrel, which has over 100 retail stores in the United States and Canada, has just opened its first full-service restaurant, where customers can see their product offerings in a practical setting.
Called The Table at Crate, this modern casual dining experience is only available in the Oak Brook, Illinois store. So how did this meticulously designed restaurant come to be filled with 62 hand-crafted glass pieces from Niche?
It all began with a general inquiry to our Sales team. Before we knew it, the Crate & Barrel Brand Experience Manager was on their way to Niche HQ to meet with our Creative Director and Operations Manager. Soon, the design team at Crate & Barrel found merit in our process and mission. Every Niche product is handmade by our team of experienced and talented glass artisans in Beacon, New York.
Crate & Barrel's Brand Experience Manager returned to Niche, this time paying closer attention to our shapes and colors. They gravitated strongly towards our Sapphire and Opaline glass, pairing each shape with an LED bulb. After a well thought out selection processes, we're exited to announce that they are now installed and on display throughout the new restaurant.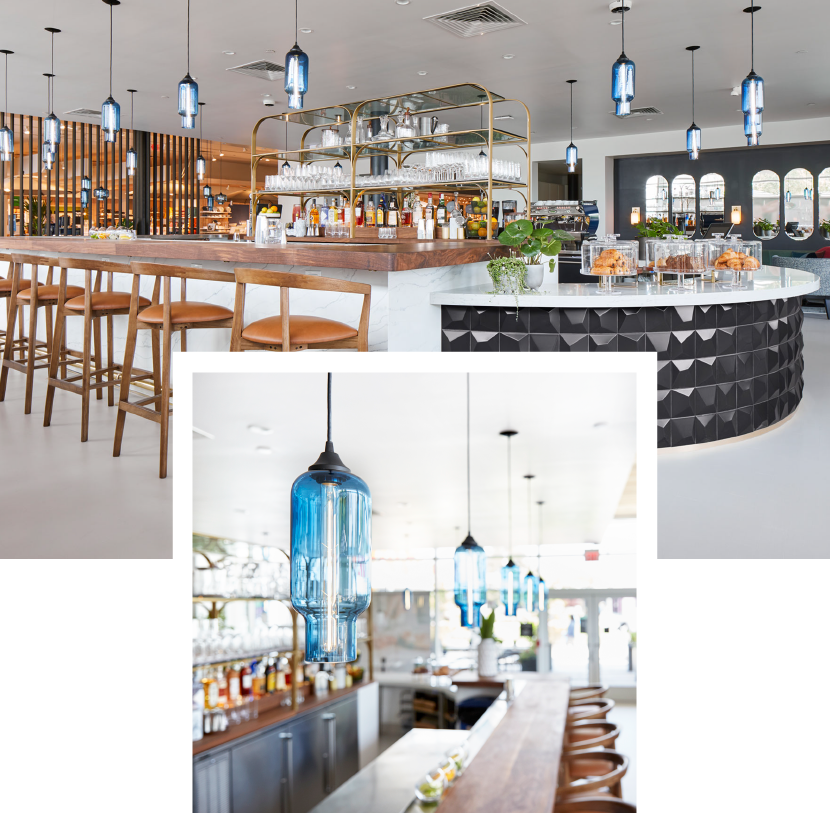 Pharos pendants in Sapphire glass hang above the bar, adding a burst of bright blue color to the otherwise neutral environment. The uniformity of these pendants, which all hang at the same height from individual junction boxes, creates visual length along the bartop. This sleek silhouette adds a touch of flavor to the restaurant, inviting guests to mingle with a drink underneath bold bar lighting.
Smaller clusters of Sapphire pendants appear throughout the restaurant as well. Three groupings of Sapphire Pharos, Calla, and Oculo pendants hang from our Matte Black Circular-3 Modern Chandeliers above intimate lounge areas. This combination of pendant lights looks exceptional together since all three shapes have a distinct cylindrical bottom.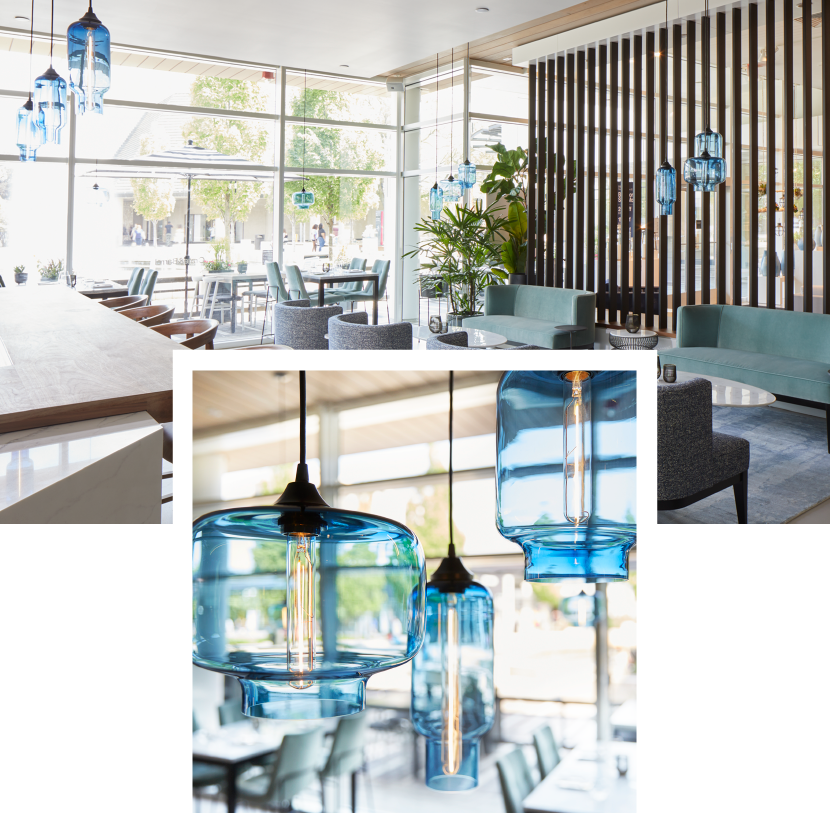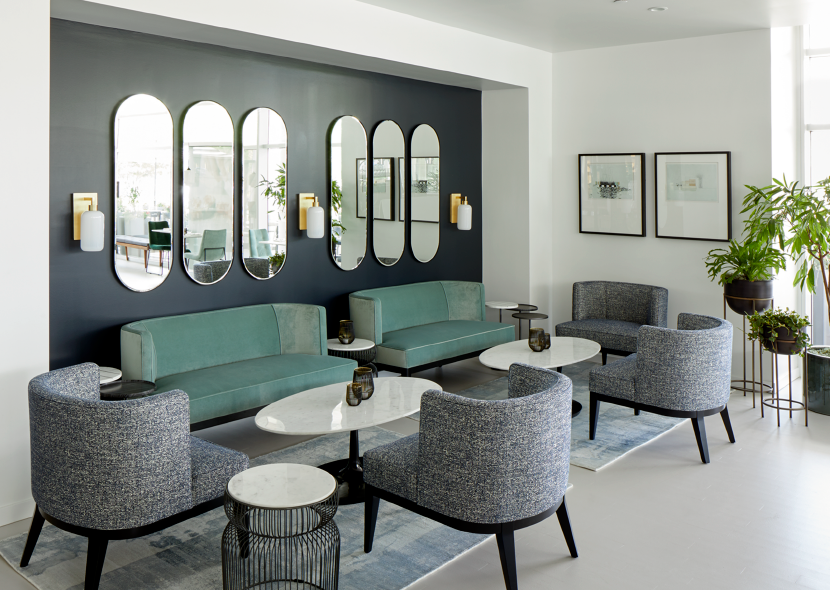 In another lounge area opposite the bar, a trio of Satin Brass Sconces with Opaline Helios adorns the walls. These versatile light fixtures create a warm, intimate glow that shines bright against a dark accent wall.
It doesn't end there – a stunning cluster of Opaline pendants hangs above a long dining table. Hung from multiple junction boxes, the varying drop lengths, and hand-blown glass shapes creates the look of a unique chandelier. The cluster, which features seven Terra and Calla pendants, five Pharos and Cloche Grand pendants, and four Oculo pendants, welcomes guests to a beautiful but playful table setting. The addition of velvet chairs in a range of colors strengthens this aesthetic even more so.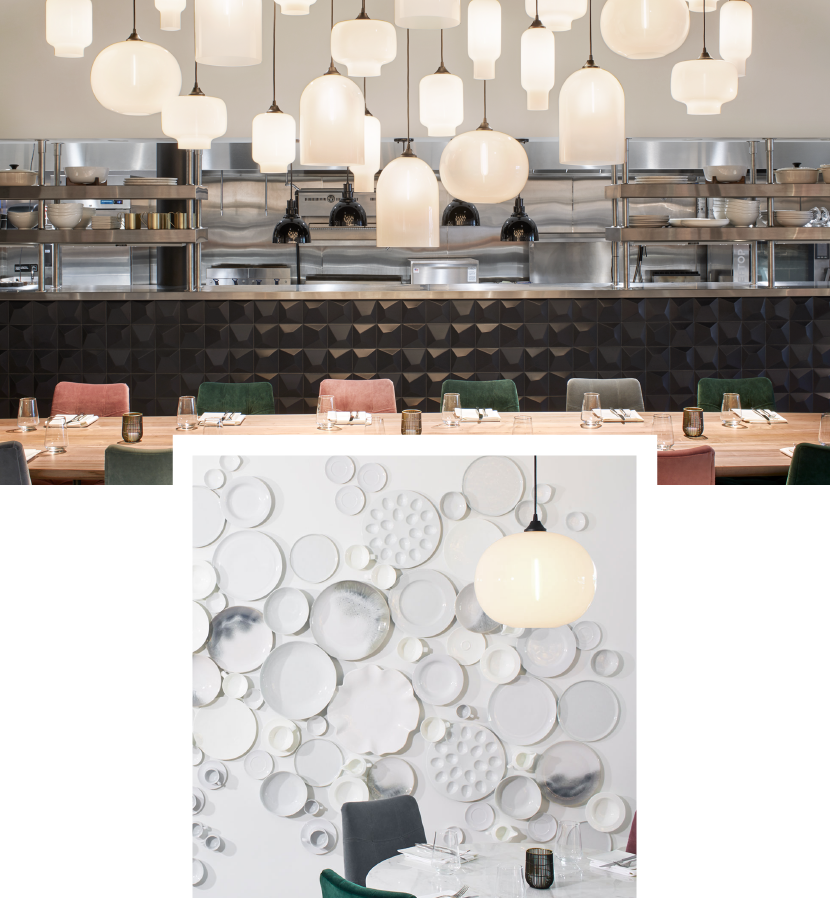 We were thrilled to have received the call from Crate & Barrel and continue to be blown away by the application of our pendant lights and sconces in their new restaurant. These Niche pendants and more are available at Crate & Barrel online and will be featured in select top Crate & Barrel stores. Be on the lookout for them across the country!
Project Name The Table at Crate
Photography All photos curtesy of Crate & Barrel
Location Oak Brook, Illinois
Interior Designer Crate & Barrel & Cornerstone Restaurant Group
Products Used 20x Pharos pendants in Sapphire glass, 8x Oculo pendants in Sapphire glass, 3x Calla pendants in Sapphire glass (custom), 3 Circular-3 Canopies in Matte Black, 3x Satin Brass Sconce with Opaline Helios, 7x Terra pendants in Opaline glass, 5x Pharos pendants in Opaline glass, 4x Oculo pendants in Opaline glass (custom), 5x Cloche Grand in Opaline glass (custom), 7x Calla in Opaline glass
Read More In Architectural Digest, Real Simple, My Domaine, Bloomberg, Food and Wine
Raindrop Chandeliers
Chandeliers for dining room
Related Posts to Modern Chandeliers
Cool Lamps That Lighten Up The Mood With Their Designs
11 Great LED Kitchen Light Fixtures
Add More Light To Any Corners with Torchiere Floor Lamps
The Glamour and Sheer Exuberance Of A Drum Chandelier for Your Home
Create a Focal Point With Track Lighting Fixtures
How to Choose or Upgrade the Garage Lighting
Bring Earth Tones Indoor With Wooden Table Lamps
13 Best LED Work Lights For Any Construction Job
Children's Lighting